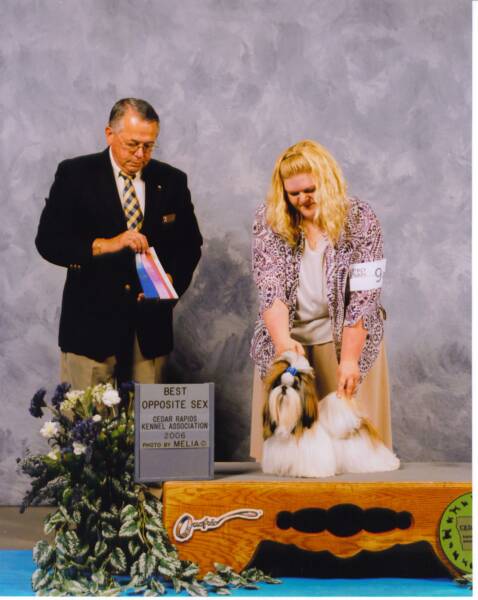 SarJan's What U Need To Know

Baby Lance debuted at Waterloo KC for the ring experience.  He was reserve on Sunday.  He was BOS in Sweepstakes at the Shih Tzu Club of SE WI Specialty.  Baby Lance was WD/BOS Saturday at the Cedar Rapids KC for his first point.  The next day he was WD/BW/BB for his second point.  He was also Best Puppy and got a Puppy Group 3.

At the Rochester, MN KC on Saturday he was WD/BW/Best Puppy for 2 more points.  On Sunday he was WD/BW for 2 points.  Baby Lance was WD/BW/BOB both Saturday and Sunday at Tri-City KC.  He earned a point each day. At Council Bluffs KC he was WD/BW/BOB both days.  Lance was WD/BW for a 4 pt major at St. Cloud.  To finish his championship Lance was WD/BW/BB for a 4 point major at the Belle City KC on Friday.  Finished 2007.

CH SarJan's Neopolitan Jai-Dei x Ch SarJan's Just Want U To Know